The Macallan The Harmony Collection Rich Cacao Whisky 700ml
KSh 29,000.00
Order online your favorite The Macallan The Harmony Collection Rich Cacao Whisky 700ml in Nairobi at wholesale price and get it delivered to your doorstep within minutes. The Macallan The Harmony Collection Rich Cacao 700ml Whiskey price in Kenya is Ksh. 29,000 only. It contains 44% ABV (alcohol by volume). An exceptionally rich single malt whisky characterized by its deep, dark chocolate profile.
Order The Macallan The Harmony Collection Rich Cacao Whisky 700ml from Liquor Square today. Crafted from a harmonious combination of European and American oak casks, this rich single-malt whisky pairs in perfect harmony with fine chocolates for an elevated tasting experience. A collaboration with renowned pastry chef Jordi Roca of three Michelin star restaurant El Celler de Can Roca, this release brings the worlds of chocolate and whisky to life. To create the first limited edition whisky in a new annual release series, The Macallan Whisky Maker Polly Logan embarked on a unique journey to Girona, Spain, where she immersed herself in the world of chocolate, exploring the chocolate-making process and uncovering the distinctive flavor profiles at Casa Cacao.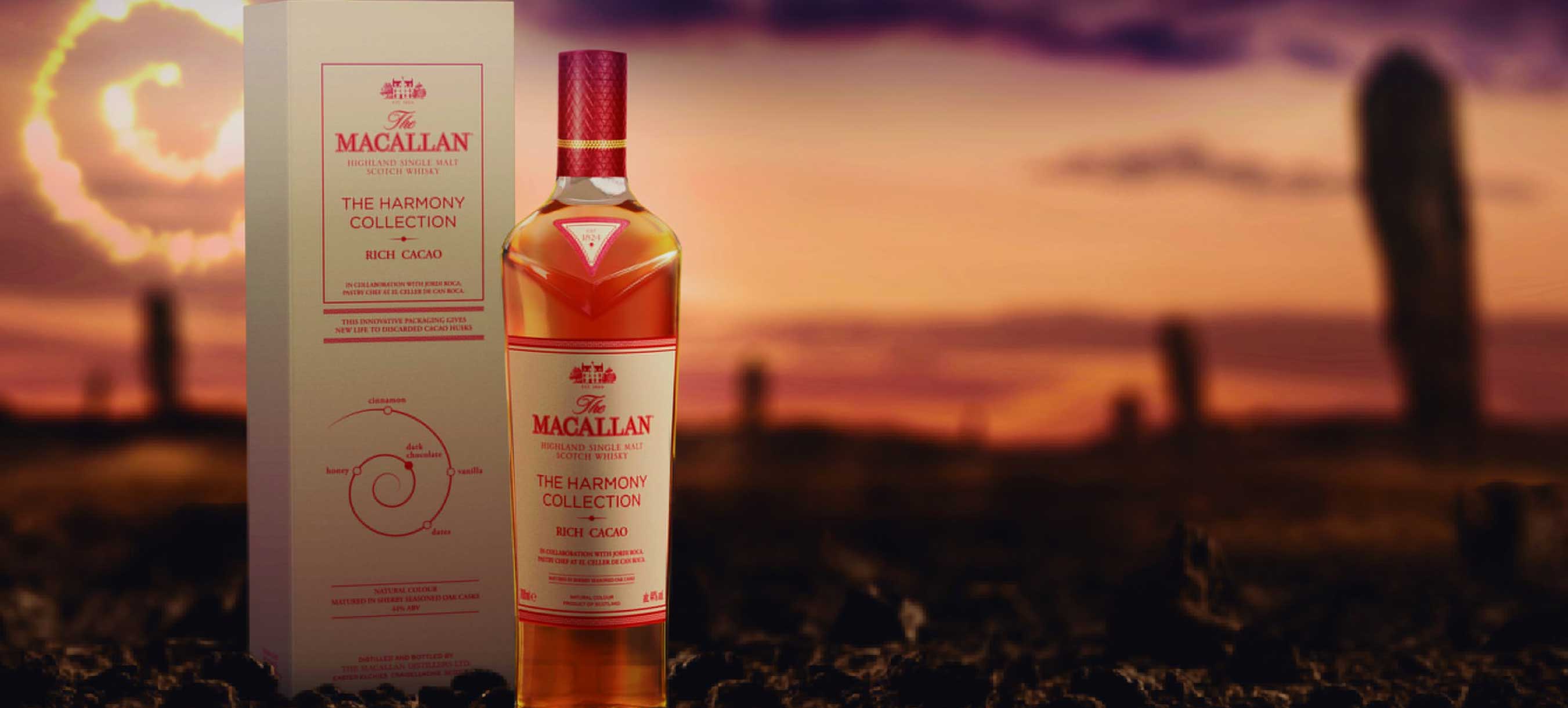 Polly worked with Jordi Roca, owner of the famed chocolate boutique and hotel, Casa Cacao, and the youngest of the acclaimed Roca brothers. As part of the exploration, she also spent time with the master chocolatier of Casa Cacao, Damien Allsop. In homage to its chocolate influence, The Macallan Harmony Collection Rich Cacao is presented in a 100% recyclable gift box, made using discarded husks from cacao pods.
A by-product in the chocolate-making process, these husks would have been sent to landfill or destroyed but have now been reborn with a renewed purpose.
Both take time and exceptional attention to detail, with even the slightest changes to the process encouraging different aromas and flavours to emerge.
For this expression, I sought out a specific chocolate note in The Macallan's traditional sherry-seasoned European oak casks and combined this with a vanilla note imparted by sherry-seasoned American oak casks to sweeten the slightly bitter chocolate note I had found. This exquisite single malt offers a delightful whisky and chocolate pairing experience and the chance to elevate the enjoyment of The Macallan to a new dimension. Call us or WhatsApp us on 0712 545 454 or 0701 858 585 to get the best deals on drinks in Nairobi. We offer reliable online Whisky delivery.
| | |
| --- | --- |
| PRODUCT NAME | The Macallan The Harmony Collection Rich Cacao Whisky |
| VOLUME | 700ml |
| PRICE | 700ml @ Ksh. 29,000 |
| COUNTRY OF ORIGIN | Scotland |
| ALCOHOL CONTENT | 44% |
| BRAND | ‎The Macallan |
| TYPE | Whisky |
| AVAILABILITY | In Stock |
| SHIPMENT IN NAIROBI CBD | Free |
Additional information
| | |
| --- | --- |
| Alcohol Content | 44% ABV (Alcohol By Volume) |
| Country of Origin | Scotland |
| Packaging | Bottled |
| Volume | 700ml |