Jameson Black Barrel Blended Irish Whiskey 750ml
KSh 4,000.00
Order online your favorite Jameson Black Barrel Blended Irish Whisky 750ml in Nairobi at wholesale price and get it delivered to your doorstep within minutes. Jameson Black Barrel 750ml Blended Irish Whiskey price in Kenya is Ksh. 4,000 only. It contains 40% ABV (alcohol by volume). Blend of traditional Irish pot still and rare small batch grain whiskeys. Triple distilled with a rich, smooth, and sweet taste (40% vol). Matured in a combination of oak, sherry, and double charred 'Black' barrels. Enjoy neat, on the rocks, or take your next Old Fashioned to the next level.
Ingredients include: Aged Irish Whiskey (cereal & malt distillates), Demineralised water
Energy information: Per 100ml (Kcal) - 221. Per Serve (Kcal) - 55.25
Order your Jameson Black Barrel Blended Irish Whiskey 750ml from Liquor Square today. Jameson Black Barrel Irish Whiskey is a tribute to our coopers, who painstakingly give their barrels an additional charring to reveal their untold richness and complexity. Charring is an age-old method for invigorating barrels to intensify the taste. Time spent maturing in these double-charred barrels lends our whiskey a unique richness, with more intensified notes of vanilla sweetness and caramel, alongside toasted wood, fruit, and warm spice.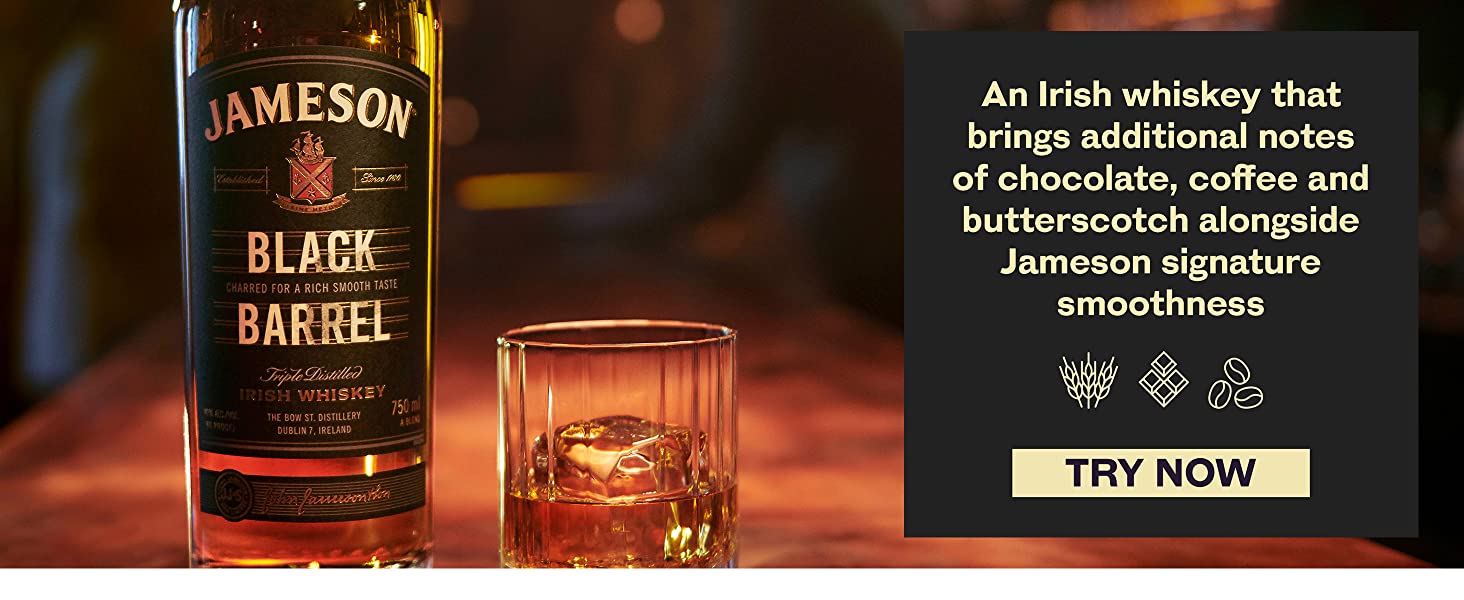 We always like to say that everything you need to know about Jameson is right here – either on our bottle or in our bottle -encapsulating our full story. The label features our family crest and motto. Proclaiming 'Sine Metu', it means 'Without Fear'. It's the reason John Jameson first triple distilled Irish whiskey, creating Jameson Irish Whiskey as we know it. So in the spirit of Sine Metu, let us take you on a journey. Pull up a chair. Call us or WhatsApp us on 0712 545 454 or 0701 858 585 to get the best deals on drinks in Nairobi. We offer reliable online Whisky delivery.
| | |
| --- | --- |
| Product Name | Jameson Black Barrel Blended Irish Whiskey |
| Volume | 750ml |
| Price | 750ml @ Ksh 4,000 |
| Country of origin | Ireland |
| Alcohol content | 40% |
| Brand | Jameson |
| Type | Whisky |
| Availability | In Stock |
| Shipment in Nairobi | Free |