Jagermeister Manifest Herbal Liqueur 1 Litre
KSh 5,500.00
Order online your favorite Jagermeister Manifest Herbal Liqueur 1 Litre in Nairobi at wholesale price and get it delivered to your doorstep within minutes. Jagermeister Manifest 1 Litre Liqueur price in Kenya is Ksh. 5,500 only. It contains 38% ABV (alcohol by volume). The base is characteristically part of the Jägermeister family, and includes subtle spice and aromatic bitters, finishing with a hint of vanilla and slight oak flavors. Perfect over ice as a sipping shot, or alternatively served with fresh lemon juice and soda water as a Manifest Highball.
Order your Jagermeister Manifest Herbal Liqueur 1 Litre in Kenya from Liquor Square today. The Manifest spirit has very close ties with the Jagermeister original, sharing the same base. However, the creation of Manifest involves a more complex process and a very specific ageing approach which takes significantly longer. Senses and flavours are sharpened through barrel ageing in toasted oak casks, giving a special matured taste. It's this combination of time and herbal liqueur expertise that helps make Manifest a unique, super-premium spirit.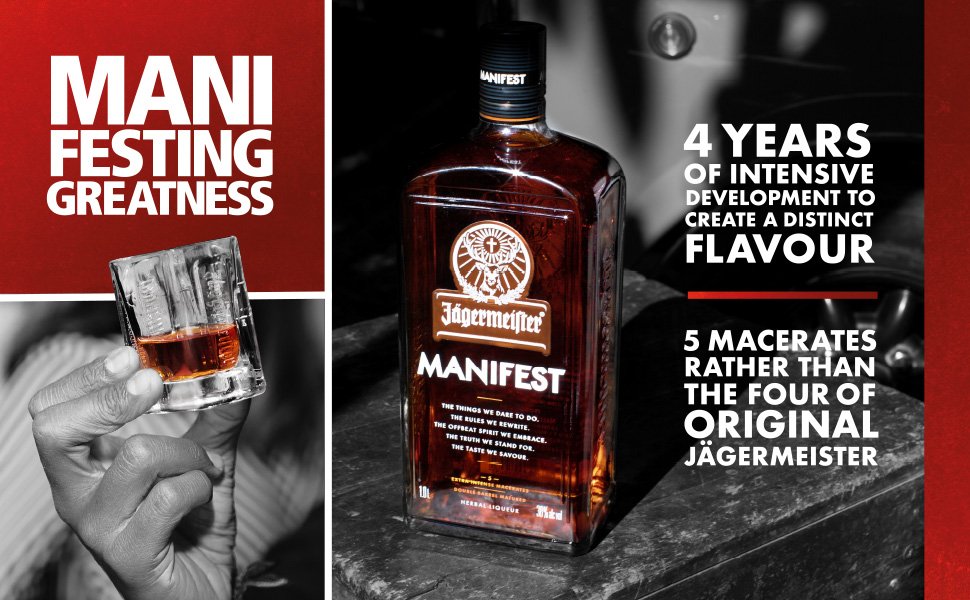 The wheat distillate matures in small oak casks for 15 months before macerating 5 times in more than 56 herbs and spices, at 250 times higher botanical load than Jagermeister's original. The blending of this wheat distillate from different oak barrels takes 14 days with the final composition of Manifest taking 3 further days. The final stage involves filling and the hand applying the bottle decor.
Jagermeister Manifest Herbal Liqueur 1 Litre is 38% abv, presented to you in a 1 Litre bottle and best consumed as a chilled shot at 6-8C or even as a classic cocktail, like a Negroni.  Call us or WhatsApp us on 0712 545 454 or 0701 858 585 to get the best deals on drinks in Nairobi. We offer reliable online Liqueur delivery.
| | |
| --- | --- |
| PRODUCT NAME | Jagermeister Manifest Herbal Liqueur |
| VOLUME | 1 Litre |
| PRICE | 1L @ Ksh. 5,500 |
| COUNTRY OF ORIGIN | ‎Germany |
| ALCOHOL CONTENT | 38% |
| BRAND | Jägermeister |
| TYPE | Liqueur |
| AVAILABILITY | In Stock |
| SHIPMENT IN NAIROBI CBD | Free |