Jagermeister Herbal Liqueur 750ml
KSh 2,400.00
Order online your favorite Jägermeister Herbal Liqueur 1 Litre in Nairobi at wholesale price and get it delivered to your doorstep within minutes. Jägermeister 1 Litre Liqueur price in Kenya is Ksh. 2,400 only. It contains 35% ABV (alcohol by volume). A German Herbal Liqueur which is a delicate blend of 56 carefully selected botanicals - herbs, roots, fruits, and spices. German Herbal liqueur is best served as an ice-cold shot, at -18 degrees.
Order your Jägermeister Herbal Liqueur 750ml in Kenya from Liquor Square today. Jägermeister Herbal Liqueur 750ml, Every German masterpiece contains equal parts precision and inspiration. Bold, yet balanced, our herbal liqueur is no different.
Blending 56 botanicals, our ice-cold spirit has always been embraced by those who take originality to the next level. If you like your drink a little longer the secret botanicals in Jägermeister mix perfectly with ginger beer to make a Jägermeister Mule.
Powering Perfectionists since 1878. Our unique elixir spirit was created in Wolfenbüttel, Germany by Curt Mast. While times may have changed, the recipe has not. Never mess with a winning formula; being iconic is that simple.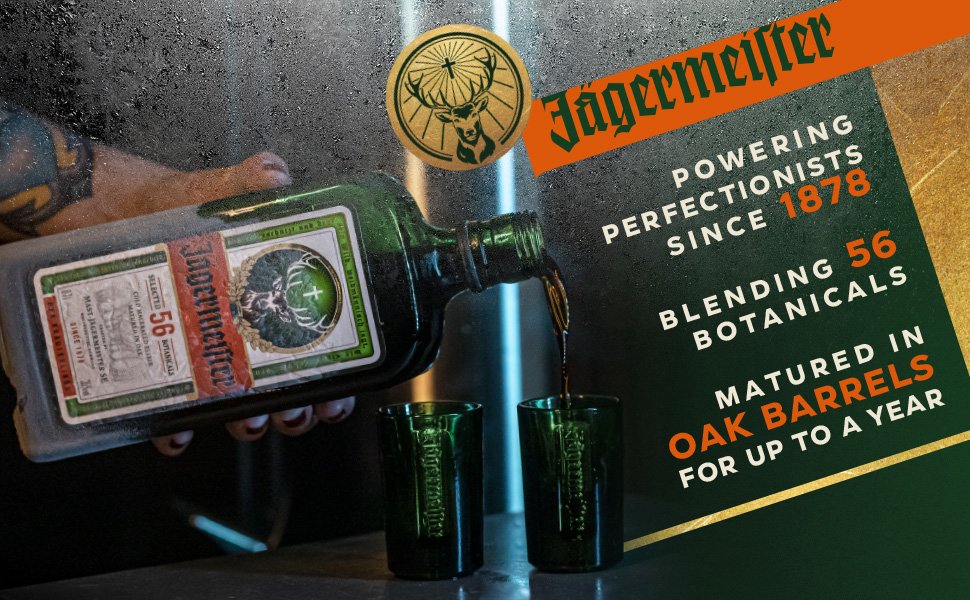 56 ingredients, everyone essential. Nature made it, we put it in a bottle. The highest-grade herbs, blossoms, roots, and fruits from around the globe are crafted into 4 distinct macerates, then combined in modern-day alchemy into our herbal spirit. The full ingredient list of Jägermeister Herbal Liqueur 750ml in Kenya is a closely guarded secret, but raise a glass to your lips and you'll taste all 4 corners of the world.
Our taste profile stands out in any crowd. True connoisseurs can single out Jägermeister's 5 distinct notes; sweet, bitter, fruity, spicy, and aromatic.
Every drop of Jägermeister comes from one of the 445 Oak barrels that live in our factory cellar. In the darkness of their depths, the macerates are left to blend and mature for up to a year until they become liquid German perfection.
Jägermeister Herbal Liqueur 750ml is best served as an ice-cold Jägermeister Liqueur shot, -18 degrees to be precise, but also perfectly paired with Ginger Beer. Prost! Call us or WhatsApp us on 0712 545 454 or 0701 858 585 to get the best deals on drinks in Nairobi. We offer reliable online Liqueur delivery.
| | |
| --- | --- |
| PRODUCT NAME | Jagermeister Herbal Liqueur |
| VOLUME | 750ml |
| PRICE | 750ml @ Ksh. 2,400 |
| COUNTRY OF ORIGIN | ‎Germany |
| ALCOHOL CONTENT | 35% |
| BRAND | Jägermeister |
| TYPE | Liqueur |
| AVAILABILITY | In Stock |
| SHIPMENT IN NAIROBI CBD | Free |